A Dyn Set
Type: contact microphone
Mode: passive/active
Preamp: opt.
The A-DYN is the newest pickup of Schertler. It is a low impedance transducer suitable for all instruments, and can be connected to any mixing board in a microphone input. But the use of the A-PRE preamplifier (sold seperately or as a set) is recommended. The A-PR offer a roll-off filter, a 3-step gain, and phase reverse.
DynB
Type: electrodynamic contact microphone
Mode: passive
Preamp: optional, dual channel available
The contact microphone is about the size of a coinand installs to the top with adhesive compound. The position above the sound-post is recommended.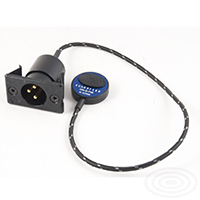 DynB-P48
Type: electrodynamic contact microphone
Mode: active (balanced)
Preamp: mandatory

The DYN-B-P48 is a fully balanced, active, dynamic contact microphone with Class A electronics. This microphone is offered for different instruments, each model features specifically designed active filtering technology.
StatB
Type: electrostatic
Mode: aktive
Preamp: mandatory; dual channel available
Schertler's first double bass pickup existed of two capsules out of wood and cork. This sealed sound chambers are constructed around a miniature eletrostatic microphone, and were stuck into the two holes of the bridge. The succeeding model follows the same principle, but it consists of only one capsule. To attach the capsules, small wood wedges have to be glued to the bridge and the cork sides of the capsules have to be adapted to the curve of the two bridge holes.