Lando Music and John Goldsby will present this Workshop on Jazz Double Bass History and Techniques on Saturday, Dec. 3.
Since 1994, John Goldsby  has been a member of the Westdeutscher Rundfunk Big Band (the Cologne Radio Big Band). From 1980 to 1994, John lived in New York City and was an active fixture on the New York jazz scene, performing everywhere from Carnegie Hall, to the nightclubs of Greenwich Village, to concert stages around the world. John is actively involved in the jazz scene as a bassist, bandleader, composer, teacher, clinician and author.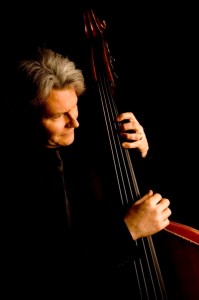 John Goldsby is well-known as a jazz educator and has taught at the Folkwang Hochschule Essen, Cologne Musik Hochschule, William Paterson College, Long Island University, and Columbia University. He also teaches at Jamey Aebersold's Summer Jazz Clinics and he has recorded many educational jazz records for Mr. Aebersold.
The Jazz Bass Book is his most recent book, documenting jazz bass players and their techniques from a historical perspective. This first-of-its-kind work is filled with transcriptions, historical and technical information, discographys, and Goldsby's insightful and inspiring writing. A play-along CD is included for the reader/student to use with written etudes, patterns, scales, and improvised solos and bass lines.
John Goldsby has written two other instructional method books: Bowing Techniques for the Improvising Bassist, and Bass Notes. Bass Player magazine says, "Bass Notes is an excellent resource for intermediate to advanced jazz bassist." The National Association of Jazz Educators says, "Bowing Techniques should be a required publication for upright bassists!" Since 1990, John Goldsby has been a featured writer for Bass Player Magazine with his columns "The Tradition," "Mastering Jazz," and "Jazz Concepts."
The workshop is for bass players of all levels – from beginners to students to professionals. Participation fee is 20 €.
Location: The "Freitagsküche" at Mainzer Landstrasse 105, Ffm
(at the Lando Music premises)
Date: Saturday, December 3., 12 to 5 p.m.
Directions: 3 minutes walking distance from the Frankfurt central station
During the intermission and after the workshop, there is also the opportunity to chat and play and test Christopher basses, the Eminence bass, Presto strings, pickups and amplifiers.
Registration form after the click …
Looking forward to meet you there, Jonas