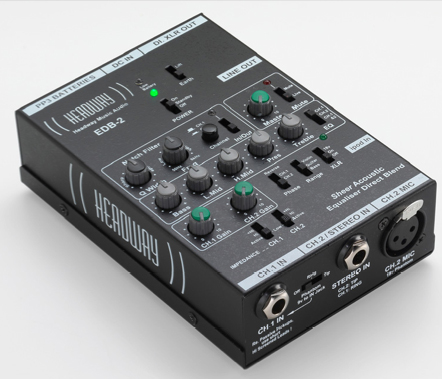 Headway has worked over their popular preamp EDB-1, and launches the brand new and even more versatile EDB-2 this summer. Among the new features of the EDB-2 are: the 5 Band EQ is now assignable to Channel 1, 2 or both; the notch Filter is assignable to Channel 1 or 2; A huge 0-32 dB gain to interface with most mixers/desks etc.; phantom power is assignable to either "ring", "tip" or "XLR" to power virtually all instrument microphones/pickups;
 phase reverse is assignable to each channel; 
3 way input impedance selector for each channel; Mini jack aux input (for e.g. iPod)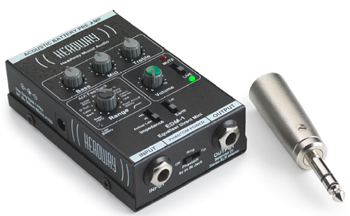 The EDM-1 is an ultra compact 1-channel-preamp and features 3 Band EQ, tuneable "Range" Control, 9v Phantom Power (assignable to "Ring" or "Tip"), 3 way impedance selector, earth Lift Switch, mute switch.
The EDM-1 is powered by battery, mains or phantom powered from mixer. A 
XLR adaptor is included to convert the output jack to XLR Balanced DI Out.