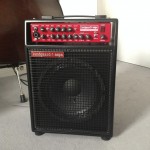 Double Combo
Type: combo or amp head
Features: 2 channels
Power rating: 220, 300, 550 watts power-modules
Features: Mic input, Phantom Power, High impedance instrument input.
Each channel with 4 band equalizer, phase switch, Lo cut, -10 db pad, 24 bit effects that pans between channels. Channel switch and mute. 3 line drivers (direct outs), head-phone output, and Neutrik combo sockets for speakon and jack. 230/115 volt mains power.
Designed and hand made (!) by bassist Jesper Lundgaard from Denmark.
(Formerly sold under the Arco Amps brand name)
www.lundgaardamps.com