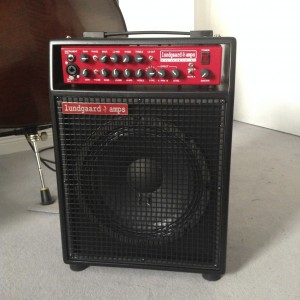 I confess: I'm a bit nerdy about amps, and actually own more of them than I really need. The newest amp in my collection ist the Lundgaard "Double". These fine and rare amps are designed and handmade by bassist Jesper Lundgaard (Thad Jones/Mel Lewis Bigband) from Kopenhagen/Danmark. They are only available from Jesper directly. This is not the only thing that reminds me of the legendary Walter Woods Amps. Size and color of the amps are also similar, but Jesper's amps aren't just a copy of the WW amps, but packed with smart details and ins and outs … it has just everything you expect from a double bass amp nowadays.
The "Double" is available as amp head, or built into a speaker cabinet as combo amp. I have the combo with 10" speaker, which is remarkable light. You have to search for an amp with a better weight-to-power ratio. Which is an indication for the fact that this amp was designed by a performing double bassist. But the amp is not only a double bass amp: it's also suitable for guitar, keyboard, violin or voice. For these instruments, Jesper has built in effects like reverb and echo.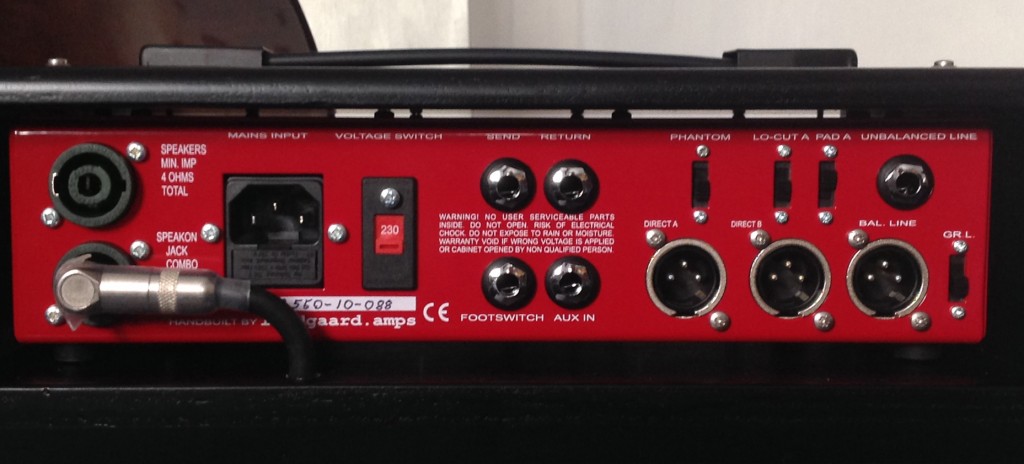 The "Double" has two channels, each of them with gain, bass, low mid, high mid and treble controls. Channel A allows to connect both standard and XLR jacks, channel B just has a standard jack input with 3 megohms input impedance for piezo pickups. Both channels have a phase reverse switch, mute and low cut filter. A chosen effect can be blended into both or just one channel, and switched on and off by means of a foot switch (included). If you don't like any of the 16 effects: the back panel has send and return for external effects. Also on the back panel: the phantom power switch for channel A, a ground lift switch, two speaker-outs (combo XLR and speakon jacks), Pad-switch for channel A (in case a pickup's output is a too hot), balanced and unbalanced main outputs as well direct out (XLR) for both channels separately. So, there is pretty much everything you will ever need on stage.
How does this amp perform? It's a no-brainer. I plugged in, dialed out some of the mids, and I was done. The sound is round, well balanced, but powerful. That's what you basically expect from a bass amp – the rest is a matter of taste. And the Lundgaard is to my taste, certainly.
further informations at www.lundgaardamps.com