Double Bass history + instrument making
Introduction to the Double Bass / More About the Double Bass / Looking at the Double Bass
by Raymond Elgar (out of print ?)
$ 35 (each)
A New History of Double Bass
Paul Brun
61 € (incl. shipping and handling) available directly from Paul Brun
To make a Double Bass
Harry S. Wake
San Diego, USA, 1982
Double Bass Making
Bob Hitchings
35 £
Making the mould -Bending the ribs – Making the back – The neck ad scroll – The top – Assembly, endpin, fingerboard, saddle and tailpiece -Varnishing. Based on Wake's "To make a double bass", but more extensive.
So you want to make a Double Bass
Peter Chandler 60 US$ + shipping
available at Luscombe Violins
"By following the instructions in 'So you want to make a Double bass', anyone with a rudimentary knowledge of carpentry tools and their use should be able to make a playable bass. Instrument making is, in my opinion, less exacting than furniture making as curved lines are more forgiving than straight lines. Preparation of workshop and tools needed are discussed in chapter one. Details of making the four main parts – neck, scroll, rib assembly, front and back – are each allotted a chapter as are my varnishing process and set up. The final chapter describes my method of copying a bass…."
Ampeg – the story behind the sound
Bill Moore and Gregg Hopkins, Hal Leonhard Publ. 32,95 $
Book about Everett Hull and the Ampeg company, who have made the first pickup for double bass, the Ampeg Baby Bass, and many popular bass amps. (Buy this book at Amazon.com)
Setup and Repair of the Double Bass for Optimum Sound
Chuck Traeger (with David Brownell and William Merchant)
publ. by Henry Strobel
85 $
illustrated, 375 pages.
This is probably the most comprehensive and complete book on double bass setup, repair and sound optimization. Written by Chuck Traeger, who was proprietor of "the" professional bass shop in New York City for many years. Much informations on fitting bridges, setting soundposts, neck grafts, making purfling, fitting patches etc.
"It's for the player who wants more and better sound, and for the maker and repairman who will provide it. It presents detailed, clear, correct and efficient techniques for practically any repair. Teaches how to increase the quantity and quality of sound in any bass while making it easier to play."
Violin Making, Step by Step
"A complete traditional method. Brief description of alternate methods. From sharpening tools to adjustment and varnishing. For the beginning or advanced maker or the interested violinist."
Violin Maker's Notebook
On 74 pages, Strobel writes about bow rehairing and repairs, crack and varnish repairs, intervals and tuning and a repair example. This book isn't very extensive, but one of the very few books available on restauration techniques.
How to Improve the Resonance Conditions of Musical Instruments by Vibration-Dedamping. Wolf notes, other Adjustments
Prof. Gerhard A. von Reumont
Henry Strobel
In the 1970ies, Prof. v. Reumont has developped and patented a proceeding for the mechanical dedamping of musical instrumets, expecially string instruments.
Violin Restauration
Hans Weisshaar + Margetret Shipman, Los Angeles, 1988
available at the author's website for $300 plus $15.00 shipping ($45 for air mail outside the U.S.)
"This book presents the art and science of violin repair in a very clear manner. Written and published by Hans Weisshaar & Margaret Shipman, it has become the world's leading manual for violin restoration and repair. This book contains 41 chapters of detailed repair description, 125 photographs, 60 technical illustrations and 18 patterns."
Electric Violins – Design und Technik der elektrischen Streichinstrumente
Dr. Hanno Grässer
Verlag Erwin Bochinsky, Frankfurt am Main
(bilingual German and English)
81 €
(Buy this book at Amazon.com)
About the Double Bass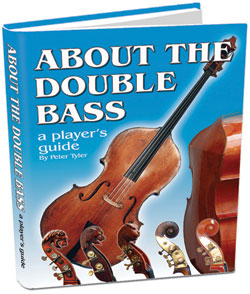 by Peter Tyler
124 pages, 4-color-printing, softcover
Available at the author's website.
Jazz + Double Bass method books
The Real Book, For All "C" Instruments, Volume 1
22.95 € (Buy this book at Amazon.com)
"The Real Books" are probably the most popular Jazz fake books. They first appeared in the 1970s. The problem is that the books were illegally produced and distributed, without any regard to copyright law, or royalties paid to the composers. Hal Leonard now has published the first legitimate and legal editions of these books. Errors have been fixed; the covers and typeface look the same, the song list is nearly identical, and the price for the legal edition is even cheaper than the original! Includes 400 songs.
Also available as F-Clef version. (Buy this book at Amazon.com)
(Michael Sattler's website gives an overview on jazz fake books.)

Ray Brown's Bass Method
Ray Brown
Hal Leonard Publ.
12,81 €
"Essential scales, patterns and exercises: solo exercises and arpeggios; music fundamentals, right- and left-hand positions; scales, chords, exercises in tenth, rhythm patterns with "drops"; diminished chords, runs and variations, blues patterns; extension scales and exercises". First published 1963.
(Buy this book at Amazon.com)
The Evolving Bassist
Rufus Reid
Myriad Limited
29,63 €
Physical positions – How to achieve a good pizzicato sound – Getting to know your fingerboard – Scales and chords; Cunstructing good and functional bass lines – Blues and Rhythm Changes; Latin lines and patterns – Dexterity, Solistic concept – transcribes solos – discography of significant bassists
(Buy this book at Amazon.com)
The Jazz Bass Book – Technique and Tradition
John Goldsby
Backbeat Books
24,68 €
"Explores the life and work of more than 70 important bassists. With exclusive interviews, transcriptions, profiles; from early New Orleans jazz through swing, bebop and the avant-garde."
Includes play-along CD. An absolute must-have for every bassplayer.
(Buy this book at Amazon.com)
Jade Visions: The Life and Music of Scott LaFaro
Helene LaFaro-Fernandez
North Texas Lives of Musician Series
24,95 $
(Buy this book at amazon.com
)